AKC-ASCA CH. SUNCATCHERS ALL IS ON AVIATOR CGC
Sire: AKC-ASCA-INT. CH. KINETIC SCANNING TRU BLU CDX
X
Dam: CH. SUNCATCHER'S SIMPLY THE BEST

Pilot is OFA GOOD, EYE CLEAR, full dentition, and correct scissor bite.
At stud to approved bitches.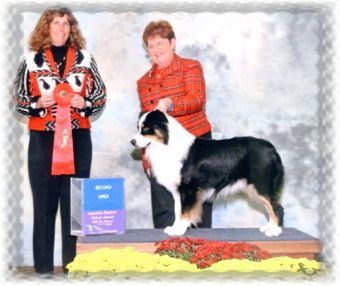 2005 Nationals 2nd place win Cathy did a wonderful job handling this handsome dog competing in the Open class of 25 gorgeous dogs!
This was his FIRST time at Nationals and Pilot and Cathy made a terrific team!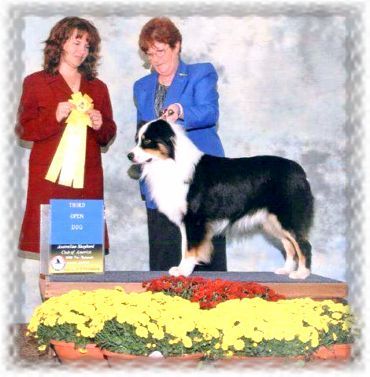 <
2005 Nationals winning Third place out of a class of 25 dogs!
Handled by Cathy Pirtle.

"center">
Cathy Pirtle handled Pilot for a major win to his AKC Championship.

"center">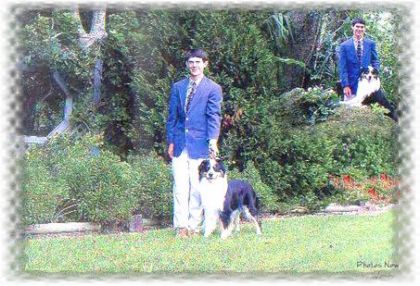 Tanner Norris also handled Pilot to put points on towards his AKC Championship,
with two back to back 4 pt. majors at 13 years old.
Pilot finished his AKC Championship at 16 months old.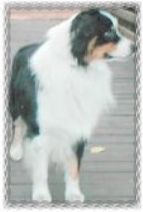 A Day In The Park
Pilot was a special dog right from the start. He was confident, had a beautiful side gait and was clean going down and coming back with a shiny black coat that just said "Look at me". I did and still am. He's gotten better with age.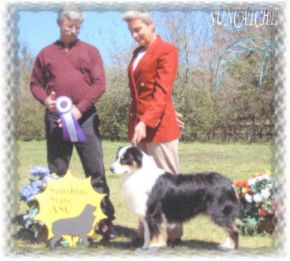 Pilot started his conformation career at the age of 11 months in Jacksonville, Florida, handled by Pat Stout, Pilots breeder. The first time out in the show world Pilot was entered in Sunshine State Australian Shepherd Club and took the Reserve Winners placement, to a 5 point major!
It was obvious that this boy had it going on,
so off he went to the world of AKC dog shows.
Pat Stout owns Pilots Dam,
CH. SUNCATCHER'S SIMPLY THE BEST
AND
GRANDSIRE, BIS CH SUNCATCHER' LOVE-M-AND LEAVE-M.
Pat then took Pilot into her capable hands taking him on the show circuit finishing his AKC championship at the age of 16 months old. June 19th, 2005, in Tampa, Florida
on my husbands birthday. What a present that was!
I would like to thank Pat Stout, Cathy Pirtle and Tanner Norris for their expert handling. Tanner at 13 years old, took Pilot into the show ring adding two 4 point majors
to Pilots accomplishments.
Since Pilot did so well in AKC, I entered him in ASCA dog shows. He did very well with ASCA also. Pilot finished his ASCA Championship with considerable ease, finishing with all major point wins. A 4 point, and four 3 point majors.
AKC-ASCA-INT. CH. KINETIC SCANNING TRU BLU CDX, CGC is Pilots sire. AKC-ASCA CH. PENNYCAERAU KINETIC RED ALERT, STD is Pilots grandsire owned by Debra Johnson and
Fairviews Blue Denim Callie is his granddam owned by Beverly Shaw
Having finished both AKC and ASCA championships, Pilot will now be on the obedience trail. Hopefully, soon he will have a title at both ends of his name.
What a handsome, intelligent, hard working dog!

"center">
Pilot winning "Best of Winners" for a 3 pt. major in Ocala, FL.
Handled by Brenda Allison (owner)

"center">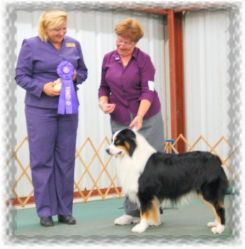 Pilot getting "WINNERS DOG" for a 3 pt. major, in Ocala, FL. CFASC show.
Handled by Cathy Pirtle.
Judge: Janet White

"center">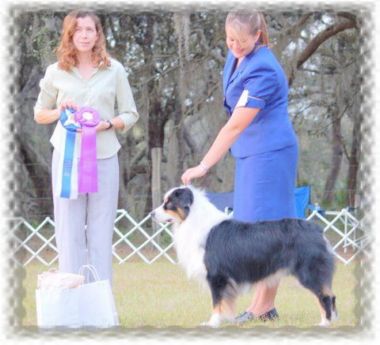 Pilot winning "BEST OF WINNERS" Erica Escalada handled Pilot in Zephryhills, FL. for Best Of Winners 3 pt major and for final points for
(4 pt major) Melanie Magamoll handler
for class win, and Erica Escalada
age 15, took him on to win
"Best of Winners" ASCA CHAMPIONSHIP TITLE!

"center">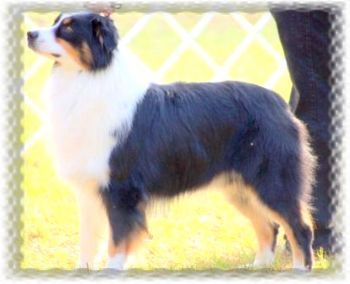 Erica working Pilot to perfection!

"center">

I would like to thank everyone that helped with Pilots Championships and to all of the judges that thought he was as special as I do!

I would like thank Cathy Pirtle, Melanie Magamoll and Erica Escalada for handling Pilot so expertly to his ASCA Champion!

Radars Wild Oats!
Knickers!
Pilot!
Mercedes!
Future Stars
Puppies!