ALOTTA ALL*IS*ON CLASS ACT CGC
EYES: CERF AS-8074 (6)--CLEAR
ELBOWS: OFA AS-EL3020F39-VPI--NORMAL
HIPS: OFA AS-24446E39F-VPI--EXCELLENT

ALOTTA ALL IS ON CLASS ACT
2005 NATIONALS IN GA
MERCEDES made the first cut from the BRED BY class out of 12 bitches while just turning 1 year old.
Handled by Kelly McIntosh
Breeders: Pat and David Stout and Kelly McIntosh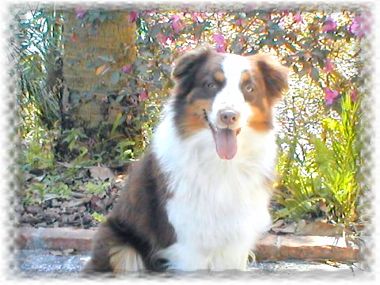 Mercedes was my "to order" female. I remember talking to Kelly McIntosh one day at a show about the next dog I wanted to get. A dark red tri bitch, full white blaze on top of her skull, between her eyes and full white muzzle, full collar, two white front legs
and two white socks on her back feet.
(The freckles on her nose where a bonus!)
Kelly called me one day out of the blue and told me that my puppy had arrived. I said, "What puppy? She then reminded me of what I said about six months earlier and that the puppy I had dreamed about had arrived. Kelly explained that when I put in an order, I did a good job! Perhaps I should have given a complete and precise description and added:"And she will finish her obedience & breed championships quickly!" I might have missed my lucky moment.......
live and learn.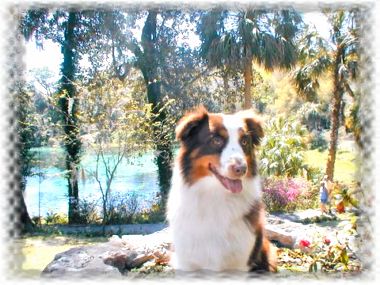 Our girl has a very good personality, disposition an out going spirit with a wonderful heart. We expect to have a lot of fun with our girl!
Pictured right:
A Day in the park" @ "Rainbow State Park" Dunnellon, FL.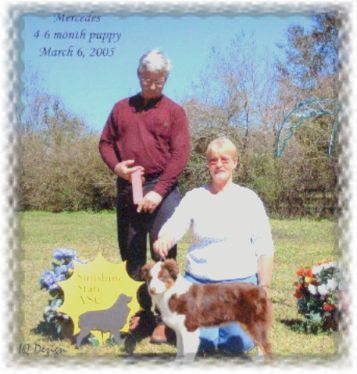 Pictured left
2nd place 4-6 month puppy bitch
SSASC, Jacksonville, FL.
Owner/handler Brenda Allison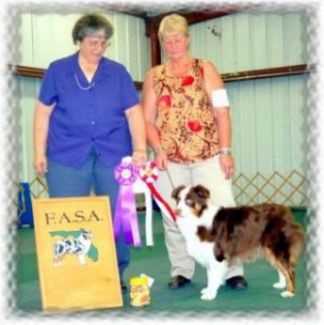 ALOTTA ALL IS ON CLASS ACT
WINNERS BITCH/BOS

OCALA, FL. (FASA CLUB SATURDAY & SUNDAY)

Saturday JUDGE: SUE ROBERTS

Sunday JUDGE: Theresa Goldman
FASA Club, Ocala, FL.
Owner/handler Brenda Allison

MERCEDES took back to back WINNERS BITCH & BOS in Ocala, fl. @ FASA CLUB.
(same weekend)
(Pilot also took BEST OF WINNERS (3 pt. major)and Knickers took BEST OF BREED PUPPY this same weekend!!!.)
What a great weekend that was!
Brenda Allison: owner/handler Whoopee!!!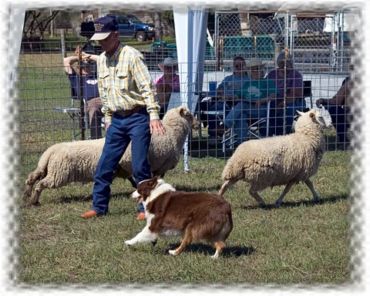 "Look out sheep!
Ewe hear me!
I herd you!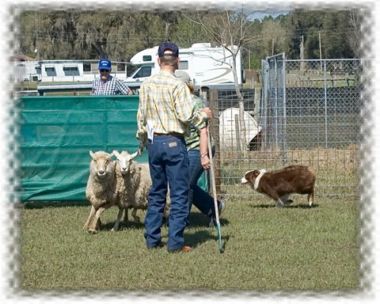 All Is On Home Page Meet Cosmo!
Radar!
Radars Wild Oats!
Knickers!
Pilot!
Future Stars
Puppies!

<